Update! A newer version of my Campbell Country map can be accessed here…
In early 1960's Liverpool – a city still suffering the scars of the determined Luftwaffe bombardment of twenty years earlier – a teenage boy purchased a short story collection titled Cry Horror! from a sweet shop that also did a line in second hand books. The book was a re-titled print of H. P. Lovecraft's The Lurking Fear and Other Stories, and the boy was a young Ramsey Campbell who would go on to become one of Britain's greatest horror authors.
Totally infatuated with Lovecraft's work, the young Campbell whipped off a series of pastiches set in H. P.'s fictional New England towns of Arkham, Kingsport and Dunwich. Then – in a remarkable act of self confidence – he sent them off to August Derleth, Lovecraft's literary executor and publisher.
One would expect Derleth to have thrown these efforts straight into the bin, but apparently he saw something in them. He wrote back to Campbell telling him "in no uncertain terms" how to improve his writing, including advice to stop trying to imitate Lovecraft's style, and to stop trying to set his tales in America. Campbell took this advice on board and shortly afterwards Derleth published one of his rewritten tales – with a revised title and some other editorial amendments – in a short story collection, and a few years later published an entire book of his stories – The Inhabitant of the Lake and Less Welcome Tenants.
Over the next few years Campbell continued writing Lovecraft inspired works, gradually developing his own voice and style. In the process he created his own version of Lovecraft's New England, a fictionalised version of Gloucestershire's Severn Valley sometimes referred to as 'Campbell Country'.
The locales of Campbell Country and Lovecraft Country can be roughly matched. The university town of Brichester maps to Arkham. Temphill is Kingsport – despite the former's inland location. Goatswood is an English version of Dunwich. Of course as Campbell continued his writing his versions moved further away from the originals.
So, why am I writing about all this? It comes down – as it usually does with me – to cartography.
The Inhabitant of the Lake contained a map of Campbell Country, as did the 1995 tribute anthology Made in Goatswood. But both of them were sketch maps at best. The problem of developing a more detailed map of the Severn Valley has vexed me ever since I discovered Campbell's oeuvre in the 1990s, and a few years back I decided to finally do something about it.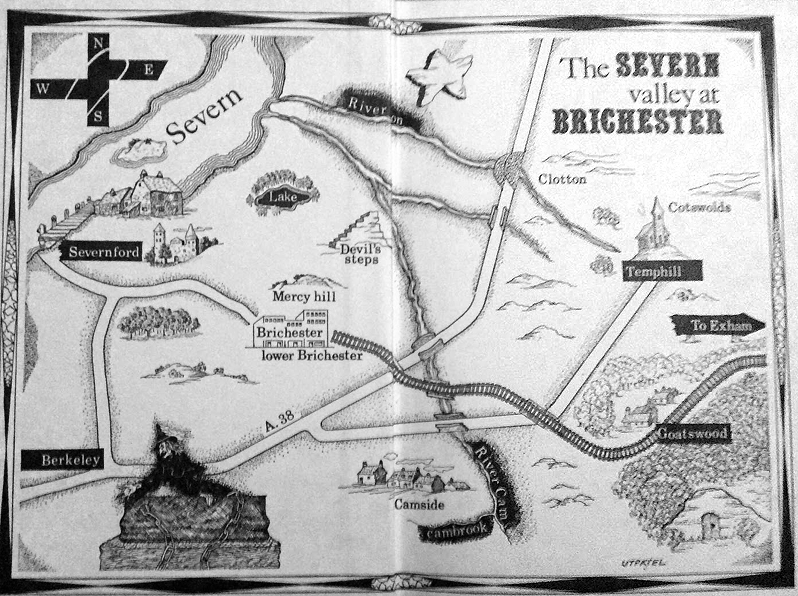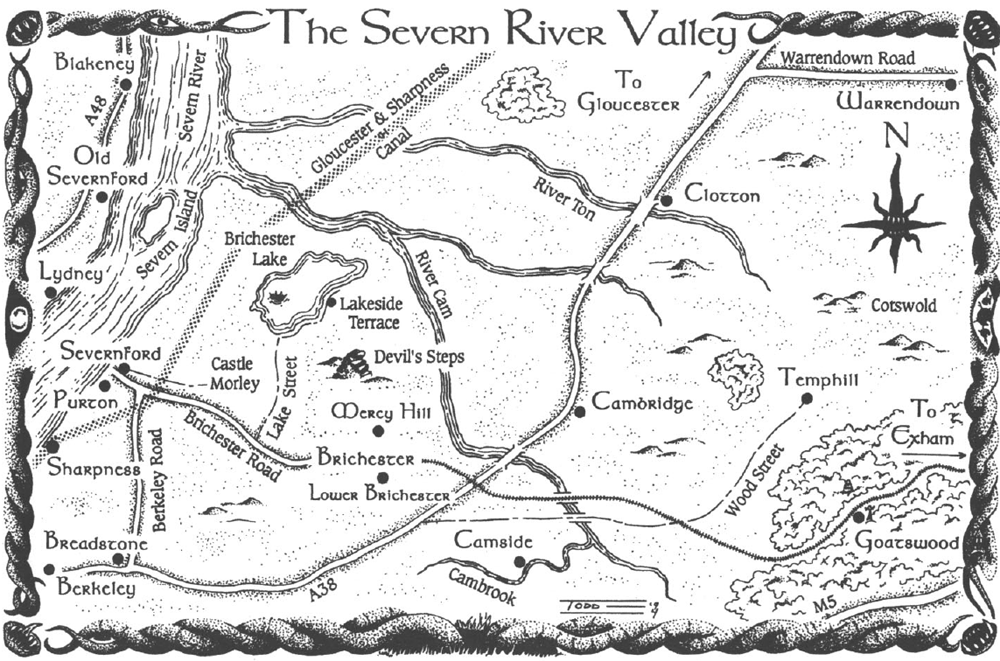 The primary problem with Campbell country is that there's actually no room for it! It lies between the lower Severn River and the Cotswold hills – an area about 15 kilometres across. Brichester – a city easily the size of Swindon – would take up most of that space, leaving nowhere for the various desolate plains and creepy, isolated villages of Campbell's stories. The map from Made in Goatswood even tries to fit the whole region in between the river and the M5 motorway, an area 6 kilometres across at the very widest!
On top of this, the Vale of Berkeley (as the region is properly known, the term 'Severn Valley' usually applying to areas north of Gloucester) is full of villages and urban developments, leaving ever less room for ominous woods and alien monuments.
So, I made two decisions. Firstly I would ignore matters of scale, and secondly I would free up space by replace existing locations with Campbellian ones.
So I got to work. But then (as so often happens) I got distracted. But then a few months back I found the files and decided to get back onto it.
In my revised geography Purton becomes Severnford with Old Severnford on the opposite side of the river. Claypits become the decaying hamlet of Clotton – it's in the right place and I couldn't resist the alliteration. The real world town of Cam is shrunk down to provide room for Camside. Ulley is converted to the sinister Goatswood and its valley filled with forest. Nympsfield becomes Temphill. The area around Haresfield (appropriate!) is depopulated and Warrendown plumped in the middle. Brichester Lake (and its inhabitant), the Devil's Steps and Castle Morley are placed appropriately, and finally the city of Brichester is placed on the intersection of the railway and the A38 (which looks like this in reality). A few roads are moved, a few rivers redirected, and we're done!
So here is my map of Campbell Country. I've no doubt made some mistakes and some incorrect assumptions, but overall I'm pretty happy with it.
Iä Gla'aki! Iä Iä Y'golonac!