As a general rule, authors do not read fan fiction.
They do not read fan fiction and are also, generally, loath to accept plot ideas from random members of the public. The reason for this can best be demonstrated by the following short play…
---
TAMBURLAINE AND THE WALRUS
Random Member of the Public: Excuse me good sir, are you by chance the famous author Congreave?
The Famous Author Congreave: I must confess, sir, that I am indeed he.
Random Member of the Public: And I in turn must confess that I am the most ardent admirer of your work, often resorting to unseemly extremes to obtain your latest publication.
The Famous Author Congreave: I am flattered sir. Flattered.
Random Member of the Public: Allow me to ask, have you ever considered writing upon the great conqueror Tamburlaine? I fancy your talents well suited to a fabulous tale of his encounter with a surly walrus.
The Famous Author Congreave: I have not, but I must admit that the idea is an intriguing one.
Random Member of the Public: Then I hope you shall consider it. It would be an honour indeed to inspire one of your works.
The Famous Author Congreave: You honour me sir with such praise. I see my driver has arrived and I must away, however it has been a pleasure to to make your acquaintance.
Random Member of the Public: And yours sir. And yours.
FIVE YEARS LATER
Random Patron in a Pub: Did you hear? The latest work of the famous author Congreave – a fabulous conceit on the subject of the conqueror Tamburlaine encountering a walrus – has sold out in each and every book emporium and has been optioned by a Hollywood producer! He stands to receive millions!
Random Member of the Public: What!? That was my idea! I shall contact my attorney at once!
LENGTHY AND EXPENSIVE LEGAL PROCEEDINGS ENSUE
FINIS
---
As I hope this short drama illustrates, any person in a creative field must be extremely careful when it comes to sourcing ideas. Recent history is replete with famous authors being dragged through the courts by random so-and-sos insisting that said author's best selling novel is plagiarised from the 20 page storybook they self published in 1983. It's safest overall for an author to straight up refuse to engage with fans offering them ideas, and to completely avoid any amateur writing involving their worlds and characters.
Which sucks, because I have a great idea for a Rivers of London/PC Grant novel.
Or at least I think it's a great idea. It ties together some obscure real-world London history with some obscure real-world London geography while involving a number of well known historical figures and events in the way that the best moments of the PC Grant novels do. It's the kind of hook that an author like Ben Aaronovitch could hang a great story on – it's just unfortunate that it occurred to me and not him.
"So why don't you write it yourself?" you ask. And it's a fair question. I've written my fair share of fanfic and without wanting to sound big-headed I think a fair amount of it passes muster. The problem lies in the kind of writing I'm good at. You want an idiotic comedy where established characters behave like lunatics? I'm your man! Or are you after a faux-academic paper? No problem! Could I interest you in a brochure for a non-existent museum replete with in-jokes? I have one right here! You want a story where realistic characters behave in a realistic fashion in the real world? Yeah… That's not something I can do.
I suspect that's down to my autistic brain. It's easy to write characters breaking the accepted rules of society when you're not that clear on the accepted rules of society to begin with. Imitating a specific literary style is simple when you're a hyperlexic who's read literally thousands of books. But describing the thoughts and actions of realistic human beings? I'm barely a realistic human being myself.
And then there's the issue of length. My brain fizzes with so many ideas and urges that it's hard to find the time to get even a short story written. At any given time I'm likely to have at least a dozen projects on the go. I've never been diagnosed with ADHD but I certainly have enough of the traits to frame a suspicion.
So, what to do?
To my mind the only sensible option is to lay the whole thing out here, if only to get it out of my head. As such I am pleased to present the plot for a PC Grant novel based on my idea. It's not the only possible plot, and certainly not the plot that Mr Aaronovich would come up with (I'm entirely confident that his version would be far better). I'll avoid spoilers by placing an explanation of my brainwave at the end – if you're not interested in my painful attempts at story-telling then please feel free to skip to there. But if you'd like to come on the journey then please read on as I sketch out the plot of –
EASTWARD HO!
(or "Der Kreis auf der Hundeinsel" if you're nasty)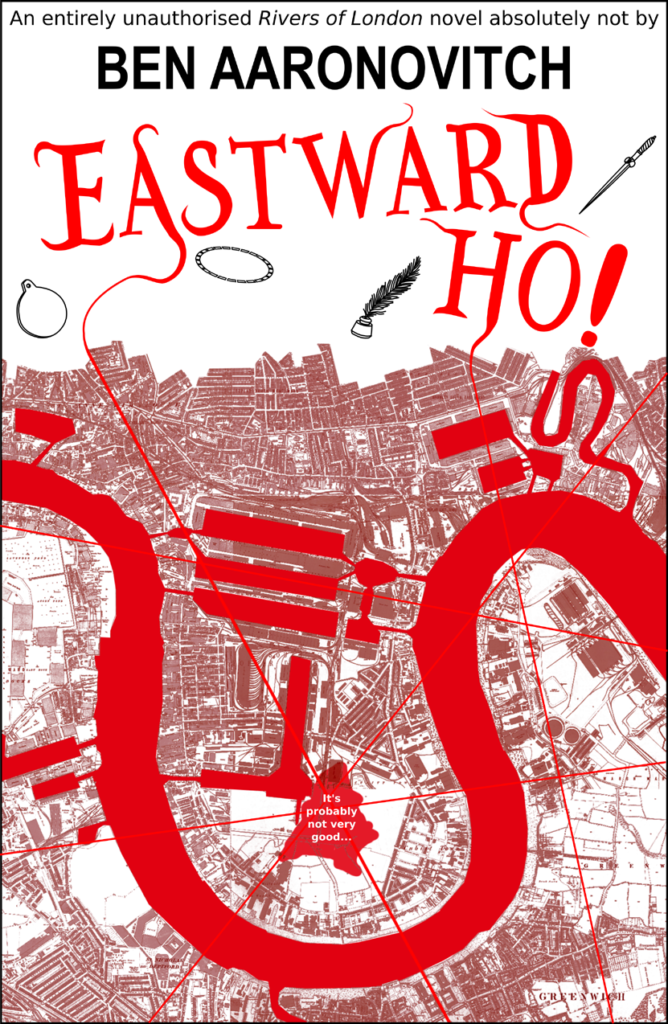 The story begins with the body of a middle aged man being discovered in Millwall Park on the Isle of Dogs, apparently having been stabbed to death. The Folly is called in when a battered business card is found in his pocket with the contact details of the late and unlamented Martin Chorley – AKA the Second Faceless Man.
Investigation shows that the man – one Christopher Greenshield – was an antiquities specialist who'd recently returned to the UK after an absence of about six years. He was renting accommodation along the Outer Millwall Dock, which proves to have been burgled and ransacked around the same time as his murder. There are no traces of vestigia in the flat, on his body or at the site it was discovered, although it's quickly determined that he was attacked elsewhere and his body relocated post mortem. It's also determined that he was killed by several stabs with a narrow, stiletto-style blade.
Historical investigation fails to uncover any links between Greenshield and the Little Crocodiles. It is determined however that since his arrival back in London two weeks earlier he'd been trying to contact Chorley – apparently unaware of his demise. A painful slog through the material in his flat and tracking his movements eventually establishes that Chorley had been in contact with him around 12 years earlier, seeking some kind of rare historical document. He'd returned to London because he managed to obtain a copy and was seeking Chorley as a buyer.
The actual identity of the document is unclear, but Greenshield's documentation shows he found it after research into 18th century Shakespeare forger William Henry Ireland. This puzzles everyone – why would Chorley be interested in Ireland? A tenuous connection is suggested between his Arthurian obsessions and Henry's forged play Vortigern and Rowena – did he base it on some kind of authentic material? Or was Chorley somehow unaware that the play was a forgery?
Investigation on the Isle of Dogs indicates that Greenshield had a number of encounters with an eccentric local resident living on the north side of Mudchute Park, one Justin Linstock. Linstock appears to have appointed himself unofficial caretaker of the park and often harasses visitors with accusations of littering, noise and anti-social behaviour – complaints about which have previously brought him to attention of the police. He's interviewed but denies all knowledge of the burglary and the murder, stating that Greenshield was loitering in the park and needed to be moved on.
Following up leads eventually tracks down a historical researcher employed by Greenshield to authenticate the mysterious document. Greenshield had him sign a non-disclosure agreement, but the prospect of prosecution convinces him to talk. It's revealed that when composing his Shakespeare forgeries William Henry Ireland managed to obtain a genuine Elizabethan script to use as a model, and Greenshield found it. A manuscript copy of the suppressed and long lost 1597 play by Thomas Nashe and Ben Jonson The Isle of Dogs.
No one believes this to be a coincidence.
Happily the researcher has a photocopy of the whole thing which is quickly forwarded to Professor Postmartin, who almost has a stroke out of sheer literary excitement. He quickly confirms that the work is genuine, although it shows clear signs of not being the original script. Rather it's a 'memorial reconstruction' or 'bad quarto' put together from the memories of audience members and actors. This would explain how it survived the government suppression of the original. Comment is made on the irony of Ireland laboring over painful Shakespeare pastiches while sitting on a genuine literary treasure.
Postmartin goes on to reveal the astonishing reason why the play was suppressed. Accepted history says it was banned as being insulting to Queen Elizabeth. Instead it turns out to be a dramatised claim that the playwright Christopher Marlowe was ritually murdered as part of a magical ceremony conducted by Queen Elizabeth's court astrologer Doctor John Dee to establish a magical nexus or 'omphalos' on the Isle of Dogs. A nexus intended to serve as the heart of a world spanning British Empire.
Postmartin explains that there have been strange rumours surrounding Marlowe's 1593 death for centuries. The official story says he was stabbed to death in a drunken fight over the bill in a Deptford boarding house, but there have been claims that he was involved with espionage and may have been eliminated to plug a leak. He was also known to be associated with a group of radical free thinkers, occultists and atheists – labeled in later centuries as 'The School of Night' – who were viewed as a threat to the Throne. The play – employing a series of fairly transparent pseudonyms – alleges that Dr Dee was the head of a magical group loyal to the Queen and who decided that Marlowe would not just be a suitable sacrifice, but that his death would strike a blow against their rivals.
Research shows that stories surrounding Dr Dee and the Isle of Dogs are well known among modern day occult groups, who tie them into a series of alleged 'ley lines' stretching across the city of London. Nightingale even heard similar stories as a young man, but the Folly never considered them as anything more than spooky campfire tales. The existence of the manuscript – authored by Marlowe's friends Nashe and Jonson – entirely changes matters. Putting aside the historical implications, could Chorley have been after it for details on how to construct his own omphalos or reactivate the purported Elizabethan one? If there was already a nexus of empire-building magical power in London then re-energising it might be an easier way to Make Britain Great Again than trying to create and control a god. And regardless of Chorley's intentions if there is a nexus of empire-building magical power in the heart of London's Docklands then the Folly needs to know about it.
Postmartin and Nightingale dissect the details of the script to try and determine if the ritual described therein has any accuracy to it while Peter heads out to the supposed site of the omphalos – located in Mudchute park. He finds nothing unusual or magical at the site – a circle of stone paving – but has a run in with a somewhat agitated Justin Linstock who tells him he's not welcome in the park and orders him to leave. Peter leaves, then doubles back to shadow Linstock, but he merely returns to his house.
Back at the Folly Peter does some more digging on Linstock. He has a lengthy record of warnings and public nuisance reports to his name, all relating to incidents in Mudchute Park. One from 18 months ago particularly stands out where he was involved in a physical scuffle with a John Leverpool. According to the incident report Leverpool – a New Age enthusiast – was dowsing for ley lines in the vicinity of the omphalos when Linstock approached from behind, tackled him to the ground and made several attempts to punch him in the head. Bystanders intervened and the police were called. On their arrival Linstock refused to explain himself and Leverpool declined to press charges. Peter attempts to contact Leverpool but he's at a retreat in Scotland and won't be back for the next week. Leverpool is tagged as a person of interest and Peter marks Linstock as worthy of more detailed investigation.
By the next day Nightingale and Postmartin have completed their research and have concluded that the ritual described in the manuscript – while consistent with pre-Newtonian magical beliefs and practices – simply couldn't work. It's a farrago of portentous sounding nonsense, and if it bears any relationship to an actual ritual carried out by Dee, said ritual would have achieved nothing. Speculation is had concerning Martin Chorley – did he figure this out for himself somehow, or did he simply give up on the omphalos and move on to other projects because of the lack of information? It will probably never be known.
An alert is then received. The previous evening a South London schoolboy failed to return home. CCTV has turned up showing him talking to and then leaving Greenwich railway station with a man who has been identified as Justin Linstock. Nightingale notes today's date – May 30th, the anniversary of Christopher Marlowe's mysterious death in Deptford…
A search of Linstock's house turns up no trace of him or the missing boy, however the missing manuscript of The Isle of Dogs is found along with a large collection of books and material relating to the Elizabethan era, Doctor Dee and ley lines. Examination of the manuscript shows that the pages containing Dee's supposed ritual are missing.
Nightingale leads a team across the park to the omphalos but finds nothing. At the same time Peter heads across the river to meet up with another team at Deptford. Matters are complicated because the exact site of the house in which Marlowe's was killed is unknown – the best information is that it's in the vicinity of Charlotte Turner Gardens. As police go door to door Nightingale races to meet up with Peter who is on the phone to Postmartin, going through the script for any clues. References to the river and "harnessing nature's power" eventually lead to the electricity substation on Borthwick Street, when they interrupt Linstock acting out Dee's ritual from the play, arriving just before he's about to sacrifice the schoolboy using a stiletto-like Elizabethan ballock dagger.
Under interrogation Linstock confesses to the murder of Christopher Greenshield using the same dagger, which he claims is the very one used to sacrifice Christopher Marlowe. He claims to be a descendant of John Dee, and the hereditary guardian of the omphalos, a role that has been passed down through his family for centuries. Communication with angels (received via automatic writing in Dee's Enochian alphabet) alerted him to Greenshield's presence and his possession of the key to re-activating the omphalos. When Greenshield refused to hand this over he had no choice but to kill him and recover the manuscript himself. An initial psychological assessment shows him unlikely to be competent to stand trial.
The Museum of London confirms that the dagger is authentic to the period, so the claim that it killed Marlowe is at least plausible. The rest of Linstock's claims are rather dubious with his family only emigrating to the UK in the late 1800s and his knowledge of the manuscript more likely coming from conversations with Greenshield in the park than from angels. However they cannot be entirely ruled out.
The play is added to Postmartin's archives and the omphalos site is added to the Folly's watch list, although assessed as very low risk.
THE END
OK, so that's the story as best I can tell it. Or at least as best I care to tell it – I could work on it more but there's not really much of a point. My inspiration was some random neurons in my brain suddenly linking the (quite real) occult claims about the mysterious paved circle in Mudchute Park to the suppressed and lost The Isle of Dogs. After that it pretty much all flowed. That's the core idea, and that's what I'd like – were it at all possible – to submit to Mr Aaronovitch for what I assume would be his far better take on it.
I decided to throw William Henry Ireland into the mix both to pad out the tale and because his story is a fascinating one. I read most of his Vortigern and Rowena for this project and how it could ever have been mistaken for Shakespeare is entirely beyond me.
The name Eastward Ho is taken from a another Ben Jonson (with George Chapman and and John Marston) play from 1605 which features a scene on the Isle of Dogs and which (like The Isle of Dogs) got into trouble with the government, this time for it's satirical take on King James' Scottish associates. It was written in response to the play Westward Ho by Jonson's rivals Thomas Dekker and John Webster who went on to write Northward Ho as their own response. The names of several characters in my story are taken from these plays.
So that's it. I have yelled my idea – for what it's worth – out into the universe. If you've managed to stick with it this far I hope it has provided some level of entertainment. Keep an eye out for my next project, Southward Ho, completing the City Comedy tetralogy started over 400 years ago!
(Just kidding.)