This post is part of the Skereig Subsector project
Name
Cnossath Prime
Segmentum
Segmentum Tempestus
Sector
Chiros Sector
Subsector
Skereig Subsector
System
Cnossath System
Population
430,000,000
The Knight World of Cnossath Prime (or simply 'Cnossath') was discovered and settled by humanity at some point prior to M23. A temperate world with three major continents and several island chains it hosts three (originally four) Knight Houses that owe fealty to the Adeptus Mechanicus Forge World of Volund Two-Seven.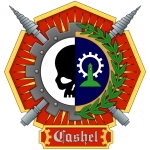 Traditions preserved on Cnossath maintain that the planet was settled by four separate colony ships, each claiming exclusive dominion over a planetary region (the ancient technology at the heart of the three remaining House Strongholds would appear to bear this legend out). Each Colony developed into a nation state ruled by Knights – House Cashel on the western continent, House Ventris on the north of the eastern continent, House Mabb on the eastern continent's southern peninsula and House Krater on the central islands. The frigid northern continent was claimed by House Ventris but unoccupied (apart from mining colonies) due to adverse environmental conditions.
A peculiarity of the Houses of Cnossath, traceable as far back as the planet's histories reach, is that the Thrones Mechanicum of their Knight Suits lack the indoctrination protocols found on almost every other Knight World. It is unclear if this anomaly is by design or simply the result of some ancient accident, but it allows a far greater degree of individuality to the planet's Knight pilots. It has also led to a bloody history of conflict and warfare between – and occasionally even within – the Houses.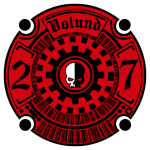 Cnossath first came to the attention of outsiders in M27 during the Age of Strife. An Adeptus Mechanicus colonisation fleet – dispatched during a lull in the galactic warp storms – settled the world of Volund Two-Seven on the far side of what would – millennia later – be absorbed into the Imperium as the Skereig Subsector. Explorators from Volund soon discovered Cnossath and the Knight Houses that ruled it. The Houses swore allegiance to Volund in return for the knowledge to repair and maintain their Knight Suits, however they retained much more autonomy than is standard in such relationships. An ancient legend claims the Houses traded "a treasure of great price" for this autonomy, a story that has been linked to both Volund Two-Seven's mastery of unusually strong crystalline alloys and to the unusual nature of Cnossath's Thrones.
It was the freedom allowed by the Thrones – and the lack of Adeptus Mechanicus control over the houses – that led to the greatest crisis in Cnossath's history. In 218.M37 during one of the planet's regular Knight Wars, the Stronghold of House Mabb and its surrounding hive city were destroyed by a titanic plasma breach triggered by a combined bombardment from forces of Houses Cashel and Ventris. The scale of this disaster – and the damage inflicted upon the survivors and their holdings – led to the three remaining Houses negotiating a set of laws governing their interactions and to standardise resolution of disputes – a document they named the Mabb Concordat.
The Concordat replaced warfare with ritual combat between champions and established a system of standard penalties for breaches of honour both between and within Houses. Designed from the outset to be flexible and to expand when necessary, the Concordat ended millennia of conflict, and under its rule both the Houses and common folk of Cnossath prospered.
It is therefore a great irony that while the Knights of Cnossath are free of the burden of conditioning by their Thrones, the ever expanding rules of the Mabb Concordat have created a society every bit as restrictive as on any other Knight World. Over two thirds of all calendar days require the nobles of the Houses to perform certain rituals or abstain from specific behaviours. The wearing (or non wearing) of specific clothing is common, as are restrictions on what foods may be eaten and at what times. Nobles of different ranks may be prohibited from communicating, or may only communicate in strange and roundabout fashions. Certain texts may have to be read out by specific Nobles, many of which are in archaic dialects extinct for centuries. The onerous nature of these requirements are believed to account for the comparatively high numbers of Freeblade Knights hailing from Cnossath.
Also contributing to the number of Cnossath Freeblades is the tradition of the Geas Penitens. A Knight that seriously violates the Concordat may find themselves penalised with the application of a penitent quest. They are ceremonially banished from their House, and assigned a task or series of tasks that must be completed before they may be re-accepted. These tasks usually take the Knight off-world and may take decades to complete. Many Knights so banished never complete their Geas and take up the mantle of a Freeblade rather than try to recover their lost honour.
Rarer than the Geas Penitens is the Geas Portorium. If a high noble of a House finds themselves in significant debt to an individual or organisation they may pay off that debt by assigning a subordinate Knight or Knights to their command. Such deals are a common way of dealing with disputes both within and between Houses, but a Geas Portorium refers specifically to Knights assigned outside of the Houses, and usually off-world. To be assigned to a Geas Portorium is viewed as a great honour, as no House would be so ignoble as to attempt to pay off a debt with any but their best.
A Knight undertaking a Geas Penitens defaces the crest on their tilting plate with a diagonal black stripe and repaints their Knight Suit to obscure all house colours and personal heraldry. A Knight assigned to a Geas Portorium maintains their House and personal heraldry, but repaints their Suit to match that of the individual or body they are assigned to.