Your music is bad. Bad and boring.
I don't mean the music you make – if you make any music at all. I mean the music you listen to. It's dull, boring, run of the mill and all the same. It's based on the same tired old ideas of rhythm, of melody and of notes that stick to a "scale" (whatever that may be).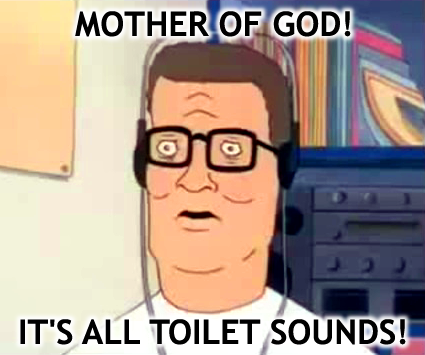 When was the last time you listened to something that startled you? That intrigued you? That made you wonder? When was the last time you put on some headphones and listened to something so wildly different – or downright terrible – that it  challenged your very concept of what music could be? Too long ago I say! And I'm here to remedy that! I'm here to tear down everything around you and replace it with sounds so strange, so deranged and so downright stupid that your ears will never be the same again!
So let's begin our journey into sound…
I took a ride on a Gemini Spacecraft – The Legendary Stardust Cowboy
Also Sprach Zarathustra – The Portsmouth Sinfonia
Transfusion – Nervous Norvus
Love Train – Varga
Ice Cream for Crow – Captain Beefheart
Ice Ice Bacon – The Trotters
Tastee Christmas – Tastee Bros
Alligator Wine – Screamin' Jay Hawkins
Wuthering Heights – Mr Floppy
Wonderwall – Masonna
Bold Brathas – Boreale & Diomedes
Folsom Prison Blues – Shooby Taylor
It's Halloween – The Shaggs
Puli Puli (Puli Tiger) – Darkey & The Keys
Clowny Clown Clown – Crispin Hellion Glover
I Ate Your Horse – Anal C**t
Peace and Love – John Trubee and the Geeks
Mr Tamborine Man – William Shatner
The Ballad of Bilbo Baggins – Leonard Nimoy
The Ruxton Rap – Bruce Ruxton
Buffalo – Stump
Golimar – Chiranjeevi
I'm an Individual – Jacko
The Fuddy Duddy Walk – The Entertainers
Jimmy Carter Says 'Yes' – Gene Marshall
The World's Got Everything in It – Mince Meat
I'll be Back – Arnee and the Terminators
U2 – Negativland
Hello Dad, I'm in Jail – Was Not Was
This list will continue to grow as I remember more of this stuff…