As the turning of the year speeds us onward into winter the time has come for me to actually make a post. Don't expect this to be a regular thing mind you, it's likely only possible because I've taken a week off work and hence actually have the time to think.
Anyway, this week someone on Reddit had decided to compile a list of Adeptus Astartes war cries (yes, I'm on about Warhammer again, deal with it) and helpfully posted the same to the 40kLore subreddit. When browsing through this list I noticed something a bit strange – can you spot it?
"Doom ye! Doom ye! Doom ye!"–Doom Warriors
"Skovakarah uhl zarûn!" ("Redden the earth!")–Emperor's Spears
"Bringers of war!"—Emperor's Warbringers
"In too deep, against all odds brothers!"—Genesis Chapter
""We are the hammer!" or "I am the hammer, I am the right hand of the Emperor, the instrument of His will, the gauntlet about His fist, the tip of His spear, the edge of His sword!"—Grey Knights
"Primarch-Progenitor, to your glory and the glory of Him on Earth!"—Imperial Fists
"The flesh is weak!"—Iron Hands
In case you're not an ageing Gen-Xer and the title of this post didn't tip you off, it's the war cry of the Genesis Chapter, who apparently charge into battle yelling "In too deep, against all odds brother!". What immediately startled me about this can best be summed up with the inclusion of a couple of videos…
So, we are being asked to believe that the war cry of the Genesis Chapter just happens to be built from the title of a Genesis song, and a former-lead-singer-of-Genesis-Phil-Collins song?
Now, sure, Warhammer 40k is probably the most plagiarism-guilty IP in human history. It's cobbled together from chunks of Dune, Heinlein's Starship Troopers, the collected works of J. R. R. Tolkien, Judge Dredd, the generalised evil of Margaret Thatcher and dozens – if not hundreds – of other sources. There's barely an original idea in the whole thing. But directly quoting prog-rock lyrics seems a little too on the nose even for Games Workshop. So what the hell is going on?
I started digging. The oldest reference I could find to the alleged war cry is on the Genesis Chapter page on the 40k Fandom Wiki – which immediately sounded all kinds of alarm bells.
Warhammer 40,000 has been a thing since 1987, and since then an absolutely titanic amount of background lore has been generated. Organising it all into a Wiki is the obvious management solution, and as a result there are a number of 40k Wikis on the web. The big three though are Lexicanum, 1d4Chan and the 40k Fandom wiki.
Lexicanum is – in my opinion – the most reliable as it insists that all information must be properly sourced. It can be a bit dry and academic though, being very much the "just the facts ma'am" 40k wiki.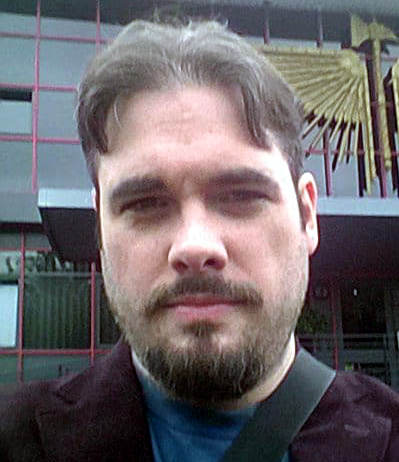 1d4Chan (when it hasn't gone offline, which it seems to do regularly) is an obscenity laced carnival of memes that – once you scrape off all the hyperbole – is often surprisingly accurate. It's also the only of the big three to really include meta-information – that is to say info about the history and community of 40k . If you want to understand the hate directed towards C. S. Goto, or know why Matt Ward is your spiritual liege it's the place to go. On the downside it's not updated that much any more, and if not tempered with more reliable sources can easily delude new 40k fans into confusing memes and jokes (usually very dated memes and jokes – like those involving Matt Ward and C. S. Goto…) with actual lore (For instance the Death Korp of Krieg are not suicidal and they do not regard shovels to be their 'cultural weapon', and you cannot kill Orks by pointing a gun at them and shouting 'bang!').
The 40k Fandom Wiki… well, to be frank, I do not like it. Its moderation and sourcing rules are extremely lax – pretty much anyone can post anything they like there and it's up to other uses to spot and correct it. Which brings us back to the Genesis Chapter…
On February 8th 2011 – yes, that's over a decade ago folks! – some wanderer of the digital waste decided to have a bit of fun with the Genesis Chapter Fandom Wiki page and made a series of edits to the info box, which I shall display here as a before and after screenshot…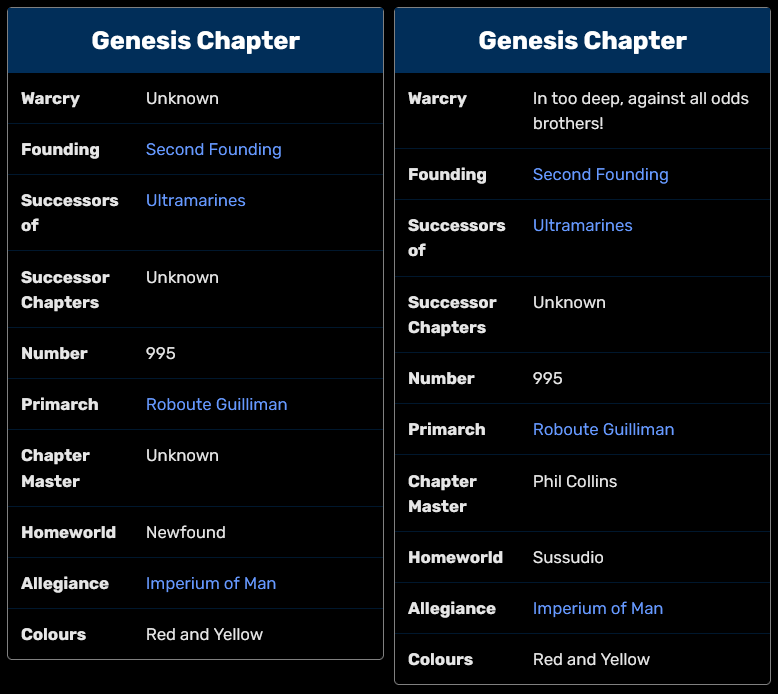 Such wit! Such satire! Actually, to be entirely honest, it's exactly the kind of joke I'd make, but I certainly wouldn't go and vandalise a wiki with it!
The joker's changes were reverted pretty quickly, but whoever did it seemingly lacked the necessary knowledge of Phil Collin's back catalogue to recognise the war cry as part of the prank, even adding quotes around it to standardise the format. And so it has sat there unchanged for 11 years, spreading through the fan community as the accepted war cry of the Chapter!
I may try to do something about this. Or I may not. All in all I suppose we should just be glad that the Genesis Chapter don't charge into battle yelling "Billy don't you lose my number!"