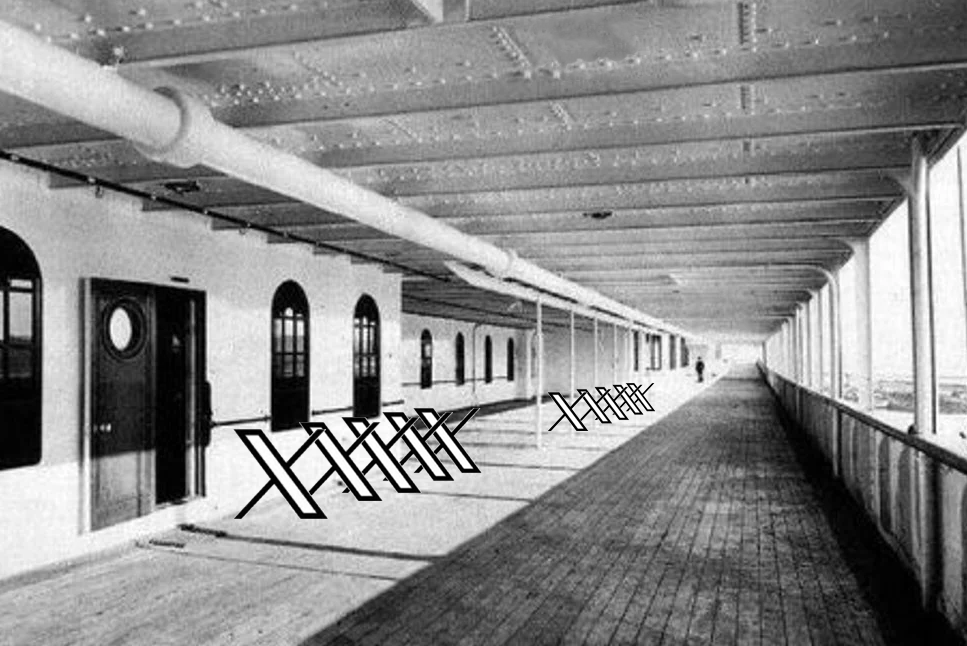 The Titanic's deckchairs are all lined up and ready to go!
There's a theory that says a new century doesn't really start until something shocking happens that shakes people up and completely changes their view of the world. The 21st century for instance didn't actually begin for the western world until September 11th 2001. Similarly, the western world's 20th century began 100 years ago today – April 15th 1912 – when the Titanic sank below the waves, taking the Victorian belief in man's triumph over nature with it.
I don't know if the theory could be considered "right", but it's interesting to think about.
Everyone's going to be talking Titanic today, so that's all I'll say on the subject.
Idiot clients aside, I had quite an interesting Friday. For a while we've been employing a programmer from Brazil and as of a few months back we've been sponsoring him for a permanent residency visa (or whatever it's called). Last week it finally came through, and by way of thanks he took us all out for lunch to a Brazilian barbecue restaurant in Subiaco.
Brazilian barbecue is pretty awesome. You sit around the table and they continuously bring you giant skewers of meat. If you want what's on the skewer you signal so by turning a coaster-like piece of cardboard to the green side, and they chop some off onto your plate. If you're not interested in this particular skewer you turn the coaster to the red side. They also load down the table with salads, sauces and sides, and the sides and skewers just keep coming until you're too bloated to move.
Particularly good was the chicken wrapped in bacon, the cheese bread, the deep fried banana and (of all things) the barbecued pineapple. The Guaraná Antarctica was also great – like Red Bull mixed with Passiona – I may have to to track down a supplier.
It was a great way to spend a couple of hours, although by the end of it we all just wanted to go home and sleep. If I did have one criticism it was that the beef was rather rare – call me a philistine but I'm of the man cook meat with fire school of cookery and prefer my food not to bleed all over the plate while I'm cutting it.
I shall attempt to arrange a return visit with my carnivorous friends as a matter of urgency.
Now (as a complete non-sequiter) back in 1999 when Dave Faulkner and Kim Salmon were choosing a name for their musical collaboration and the album produced thereof Google was barely in spark in Larry Page and Sergey Brin's eyes. This may explain why they selected "Antenna" and "Installation". Fast forward the the hectic teens of the 21st century and you try Googling information on "Antenna" and "Installation". I can guarantee you won't find anything concerning Australian music until about page fifty.
The reason I mention this is for years I've been trying to identify a song off that album. I knew the name "Ten Four", and knew that it was by an Australian collaboration that called themselves something like "Aerial", but had absolutely no luck tracking it down. It wasn't until a few months back that I began an intensive series of Google searches to try and crack the mystery once and for all.
I eventually (obviously) did it, but it took several hours of typing in various combinations of keywords and reading through reams and reams of pages about Australian musical collaborations. Making things even more complicated was the fact that the song isn't "Ten Four", it's "10-4", which again makes things more complicated than they have to be.
But now I have it! The information that is. I don't have the song because it doesn't appear to online anywhere. It's not on YouTube or any other video sharing site I've tried, and the iTunes store doesn't even acknowledge that Antenna ever existed. I rather suspect I'll have to track down a copy of Installation on eBay if I ever want to hear the song again.
Ah well, such is life.
Gotta go clean the bathroom now. That qualifies as "such is life" as well…
So, last week the wreck of the Titanic received legal protection to prohibit people heading down and taking souvenirs. I learnt this fact from a couple of blithering fools on the radio who went on to speculate on how such a law could possibly be enforced – because, after all, what's to stop anyone from putting on a SCUBA kit and taking a swim?
Among my dark mutterings about the lack of education concerning the depth of the oceans in general, the depth of the Titanic wreck site in particular and the limitations of SCUBA diving I wondered if Randal over at XKCD had ever done one of his famous charts about the matter. Not three days later, what appears on the XKCD site? This.
I'm now going to spend a fair bit of time wondering if Randal will post a comic explaining in precise detail how I get a date with Alisen Down. Hey, it's gotta be worth a try! 🙂