I've been thinking about how to field Saint Sabbat in a game of Warhammer 40,000.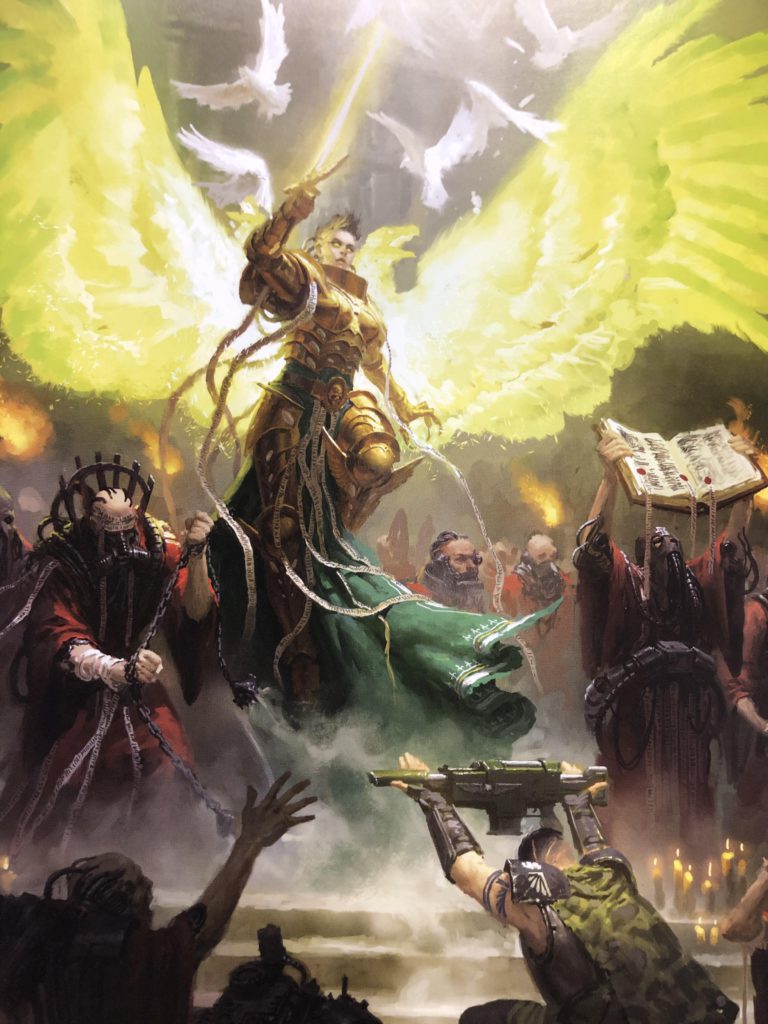 The obvious place to start is with the only Living Saint that actually has rules – Saint Celestine. I figure Sabbat should have the same statline as Celestine, with the exception of her movement, because while the Beati is undoubtedly awesome, the God Emperor declined to give her wings.
(It would have been highly thematic to give her 9 Wounds, but that's just short of a Chimera APC, which seems a bit over the top)
| M | WS | BS | S | T | W | A | Ld | Sv |
| --- | --- | --- | --- | --- | --- | --- | --- | --- |
| 6″ | 2+ | 2+ | 3 | 3 | 6 | 6 | 9 | 2+ |
With stats sorted out the next step is wargear. Celestine wields the Ardent Blade – the handy-dandy, flame-throwing, power sword from hell, man! While very cool, this is a one of a kind weapon, and there is sadly a complete dearth of accounts of Saint Sabbat incinerating people with a sword thrust. So I decided to give her a knockoff Ardent Blade clone without the ranged attack.
Now a Saint cannot live by swords alone, so what else could Sabbat wield? Her description in Sabbat Martyr notes that her left hand is adorned with a gilded glove with eagle claws. This could simply be some Saintly bling, but I decided to do something with it. I have declared that the Eagle's Talon gives anyone the Saint whacks with it a nice debuff, making it easier for everyone else to get stuck in.
Finally, what's a Saint without ranged firepower? In Anarch she's seen to be carrying a fancy golden autopistol, so let's throw one of those in as an alternative for the Eagle's Talon.
WEAPON
RANGE
TYPE
S
AP
D
Power Sword
Melee
Melee
+4
-3
2
Eagle's Talon
Melee
Melee
+1
-2
*
* Target is at -1 Toughness until the end of the Battle Round
Master Crafted Autopistol
12″
Pistol 2
3
0
1
Now we get to the fun bit, special rules!
I'm thinking that as Saint Celestine is a Saint for the Adepta Sororitas, Saint Sabbat should be a Saint for the Astra Militarum. So we'll start by giving her the ability to inspire/boss around nearby infantry with Voice of Command. We'll then nick Aura of Discipline from the great Commissar Yarrick, although we'll call it Aura of Inspiration instead.
Checking back in with Celestine we'll borrow The Armour of Saint Katherine, file off the serial numbers and call it Aquilan Aura, to represent that cool, glowing green eagle thing that shows up whenever Sabbat gets pissed off (see pic above).
Celestine also has that nice Shield of Faith ability. The 6+ Invulnerability Save is a bit much, but slapping down enemy Psykers is totally in character, so we'll chop the save off it and call it No Miracles, Only Men (you know, since that's a direct quote).
Finally we need something unique, an ability that only Saint Sabbat has access to. I can think of nothing better than giving her an Honour Guard. At the start of the battle a player fielding Saint Sabbat can designate a friendly unit with the INFANTRY and ASTRA MILITARUM keywords. As long as Saint Sabbat remains on the field that unit has +1 Toughness.
With that sorted the only thing left to do is set keywords and costs. Saint Sabbat's Faction Keywords are IMPERIUM, ASTRA MILITARUM and <REGIMENT>, and her general Keywords are CHARACTER, INFANTRY, OFFICER and SAINT SABBAT. Her POWER level is 8 and points cost 150 – both estimates based on Saint Celestine
So, there we go. Completely untested and probably overpowered, but what the hey!