This post is part of the Skereig Subsector project
NAME: Sons of Pavlach
CHAPTER MASTER: Matteus Vyev
HOMEWORLD: Freo Prime, Insignus Cluster, Skerieg Subsector, Chiros Sector, Segmentum Tempestus
FORTRESS MONASTERY: The Anchor
RECRUITING WORLDS: Freo Prime, Saversnake III
PROGENITOR CHAPTER: Unknown. Raven Guard Presumed.
FOUNDING: Unknown. Earliest Known Reference 300.M36
GENESEED DEFECTS: Defective Melanchromic Organ and Betcher's Gland. Missing Mucranoid.
CODEX COMPLIANCE: High Compliance
BATTLE CRY: Spectant Tenebris – "Look to the Darkness"
TACTICAL SPECIALTIES: Stealth, Infiltration
STRENGTH: Estimated at 847 Battle Brothers as of 985.M41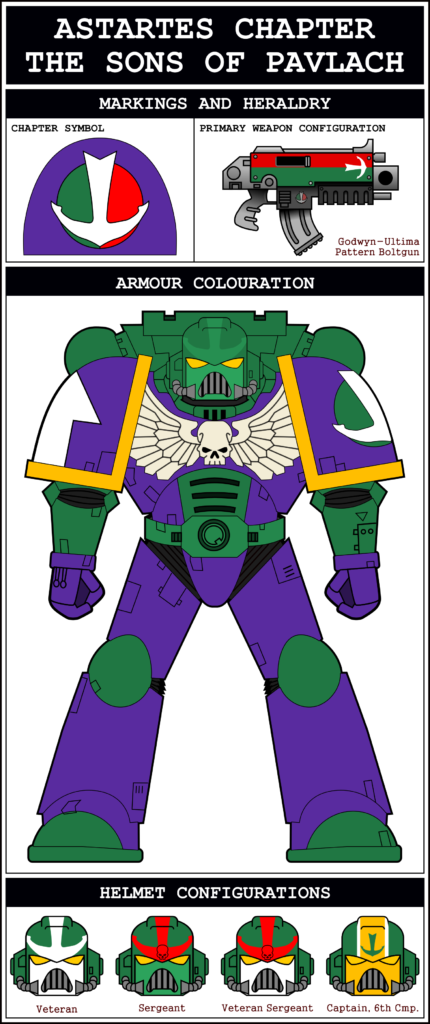 The Sons of Pavlach Astartes Chapter is based on the ocean world of Freo Prime in the Skerieg Subsector of the Chiros Sector of the Segmentum Tempestus. Established since at least 300.M36 the Chapter's Fortress Monastery is constructed within the planet's highest mountain – the Anchor – which is located near the centre of the world's only continent.
Aspirants are recruited from the fishing people of the planet's main archipelago, and expeditions are made approximately every 20 years to the feral world of Saversnake III to supervise the 'Games of Ayefel' – a tournament held to select the strongest and most athletic youths for induction into the Chapter.
Similarly to their presumed progenitors in the Raven Guard, the defective Melanchromic Organs of the Sons of Pavlach result in pale white skin and coal black hair and eyes. Unlike the Raven Guard however they possess semi-functional Betcher's glands capable of generating a dilute form of the acidic venom produced by other marines. They completely lack the Mucranoid system.
Non-Astartes personal interacting with the Sons of Pavlach have reported unusually high levels of unease – occasionally approaching outright panic – in their presence, beyond that typically categorised as "transhuman dread". It is theorised that this is the result of a low-level or subconscious psyker ability inherent in the Chapter's geneseed. The Subsector authorities prefer to communicate with the Chapter via vox and viewscreen over which this effect does not manifest – a preference that does not appear to concern the Chapter in the slightest.
The current Chapter Master is Matteus Vyev, a native of Freo Prime who was promoted from Captain of the Second Company in 878.M41 after the death of Chapter Master Kristoss Mann and First Company Captain Lang during the Purge of Adderstone.
---
In case you were wondering, the Sons of Pavlach – originally the Freo Marines – began as a joke based around creating Space Marine chapters out of AFL teams. But then I decided to incorporate them into my Skerieg Subsector project and had to clean them up some. They are now slightly less ridiculous, although it is sadly unavoidable that any AFL fan would recognise their origin immediately.