Bad News – The Data Centre that hosts our servers went down on Friday afternoon, meaning that everything for all of our clients was offline.
Good News – It wasn't our fault.
Bad News – Our clients are unlikely to understand the distinction.
Good News – They got everything back up and running in a couple of hours.
Bad News – Except for one of our critical servers.
Good News – The critical server was up and running by Saturday evening.
Bad News – One of my esteemed colleagues – who I have to work with today – lost a big chunk of his weekend getting it back up, and will most likely be in the kind of mood that would make the Pope kick little children in the face.
Good News – I got to go home early on Friday.
Bad News – Having gone home early on Friday I don't get paid as much.
Good News – I decided to catch the bus into the city rather than to Subiaco, and along Mounts Bay Road, just near the Eliza statue I spotted a fin poking out of the river. My first thought was "shark!" but then I realised the shape was wrong, and a flash of back and a puff of spray revealed it to be one of the Swan River dolphins. Awesome! I've never seen one of them before!
Then when I got home I had to time to do up a few more Snoos for the Warhammer subreddit's Snoo contest. Which was a good thing, because the Eldar Farseer Snoo I put together ended up winning! 😀 It can now be seen on top of the subreddit, and the mods liked my work so much that I've been contracted to create a new Snoo each month for the forseeable future. In return I've been allocated the title of "Honored Artificer of the /r/warhammer Snoo" and awarded a $25 Games Workshop voucher, which is nothing to be sneezed at.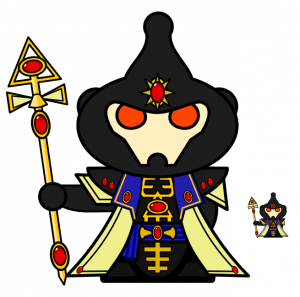 Bad News – The $25 voucher is in US Dollars and hence (apparently) can't be used to buy anything from Australia.
Good News – GW has an excellent customer service reputation, so I'm confident that if I email them I'll be able to get it sorted out.
That is all.