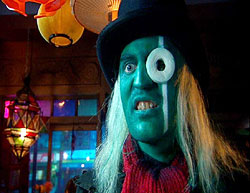 Denys the Purple Wyrm is the nome-de-web of a forty-something web designer resident in Perth, Western Australia. Inspired by an early Canadian blogger he began writing whatever drivel popped into his mind on a home rolled blogging system back in 2001 and has bloody-mindedly kept at it (with varying levels of enthusiasm and coherency) ever since.
The name "Denys the Purple Wyrm" dates back to 1992-1993 when Denys needed a pseudonym to take part in the final year of local radio station RTR's venerable "letter request" program Steregoround (you do not need to actually understand that sentence). It was inspired by one of the monsters in TSR's ancient and mostly forgotten board game Dungeon!, and L. P. Hartley's novel The Go Between which Denys was reluctantly trudging through for school. Denys found the juxtapositioning of a hideous monster and the oddly spelt name of a minor character in a dismal and grinding "classic of English Literature" amusing, and has used it ever since.
Unlike many internet poseurs Denys actually does have Aspergers syndrome. But he also has a stupidly high IQ, so that's all right then. He is violently allergic to cats, rabbits, horses, dustmites, lemon scented Jiff scouring cleanser and effort.
The image above is not him, but is how he would dress if he thought he could possibly get away with it